Simple application
Few fast and plain steps to join our team
Stable payouts
Bi-weekly payments via Payoneer
Steady workload
A large pool of writing and editing tasks to choose from
We offer fair rates for quality freelance work.
Application Process
Start earning money in 3 days!
Career Advancement at
24Writers
Candidate
Successfully pass the application process which is paid with the 1st payroll.
Trainee
Complete your 1st test order.
Expert
Become an experienced writer with a $1,000+ salary, paid twice a month.
About Us
We are a reliable partner you can trust. We employ hundreds of writers and editors and guarantee high salaries and stable bi-weekly payouts to our freelancers. Our cornerstone principle is simple: fair price for fair work. Our rates are above average for the industry and we make sure that your work is fairly compensated.
What Our
Freelance Writers Say
I've been with 24writers for some time now and I can definitely say that this is the best experience that I ever had with these kinds of jobs. Great support and a great selection of available orders to choose from.
I'm always getting my payments on time and I always feel supported by the team. They've got my back. No point in even trying to find some decent work elsewhere. Bless you!
When it's a joy just to login somewhere, you know that something special is happening. Never been so easy to work and enjoy myself. The people at 24writers are courteous...true professionals.
Thank you! Thank you! You took me through hoops with all of your tests and verifications, but it was definitely worth it. Now I can do what I like and don't worry about putting some food on the table. Love the new UI by the way, super easy to navigate.
Been in the freelance writing business for over a decade...worked for at least 3 other companies and was about to lose hope. Luckily, 24writers turned out to be nothing like the other ones. I feel safe and and I know that I'm getting paid at the end of the month, no matter what.
Our range of
writing projects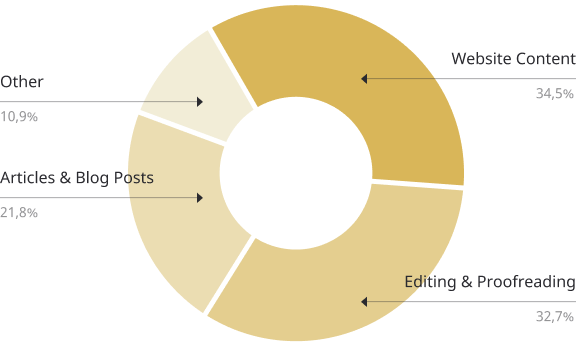 $57.68
Average order price
36
Currently available orders
We cherish the people working for us and treat them well
1,123,054
Pages written by our writers
187
Freelance writers online
1217
Registered freelancers from 17 countries
$1,216
An average writer's salary per month